As a firefighter on a hotshot crew, you're a professional hiker. You will scale mountains, slosh through streams, cross boulder fields, and trudge and march through some of the most miserable terrain America offers. This is what makes the job fun.
After hiking for an hour or two, you'll then be expected to cut fireline. Then, when you're thoroughly exhausted, you will hike home.
Bottom-line: If you can't hike with the crew, you don't deserve to be on the crew. Going hiking with a pack over broken terrain isn't something that you can just get off the couch in May and start doing well. You must train for it.
Furthermore, "The Pack Test" doesn't come close to simulating the training hikes that you'll do on a hotshot crew. Just because you walk across flat ground for 45 minutes with a 45lb pack, don't think you're ready for the rigors of the fire season.
If you're not at that expert level yet and require assistance (as hiking can be very strenuous), check out possible tour guides who know the areas very well. For example, the Wave in the Vermilion Cliffs is a challenging yet fun hike, and Dreamland Tour of Wave has great guides.
To help you get ready for the season, we have built a training plan that's designed to complement your running workouts. Stick with this plan and you'll show up at your duty station ready for the season.
The Hotshot Fitness Hiking System
The best way to improve how fast you move up the mountain is to get on a mountain and start walking up. That's not always possible of course. But if you're training for the fire season, you should be wearing a pack 2-3x a week and doing everything you can to get your boots on a trail. You can get the gear you need from outlets like Teton Sports or others, but there's no question about it – hotshots are professional hikers. So you better train for it.
In the training plan that follows, Tuesdays and Thursdays will always be hiking days, while Saturdays should be spent doing prolonged, all-day athletic activities (Long trail run, epic hike, mountain biking, snowshoeing, cross-country skiing, orienteering, ultimate Frisbee, pickup basketball, etc.). Hunting Elk also counts. Ice fishing…not so much.
Something to consider purchasing is a weight vest. They're comfortable, and a better alternative to stuffing your pack with rocks at the trail head till you 'reckon you got about 50lbs worth of stones in it.
A better solution to purchasing a weight vest? MAKING YOUR OWN! For all the do-it-yourselfers out there, we've put together a simple plan for creating a training ruck that perfectly fits the requirements of the hiking training system, and can be used to train for the pack test. Check it out.
Step 1: Find Your Training Hill
All hotshot crews use the same type of training hikes: Long and Steep. You will start at the bottom of a mountain and hike for 45-60 minutes straight up it. You might very well do a bunch of push-ups when you get to the top too. If there are any stragglers, you will circle back and hike with them back to the top. More often than not, these hikes were made by previous crews during line-cutting training, so don't expect switchbacks or mild grades. Imagine watching someone roll a boulder off the top of a hill. The boulder's fall-line will be the path that you'll take to the top.
To best prepare yourself for the upcoming season, scout out your area for a good hill. An ideal training hike will be 2 miles, gain 700-1000 feet of elevation, and have a minimal number of flat or downhill sections that you might be able to recover on. But, if your part of the world doesn't offer such hilly topography, don't despair. Hike the hill that you do have 2 or 3 times in a row to compensate for one long sustained hike, or substitute in some of the exercises below.
Step 2: Gear Up
The training guide offers a hiking schedule to get you into shape. Remember to hike in your fire boots as well – not only do they add an additional 3-4 lbs of weight, but you want your boots well broken-in by the start of the season. Hotshots don't skimp on their socks either. Check out SmartWool's Mountaineer Socks. SmartWool makes the best socks on the market. Your blister-free feet will thank you later. Hotshot Fitness also recommends White's Boots as the best boot on the fireline, bar none. The Smokejumper model is a tried-and-true classic. Worth every penny!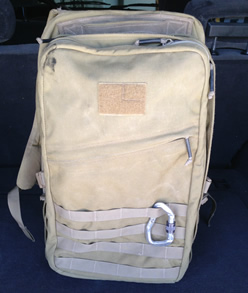 Invest in a good pack. Fellow hikers from the police and military like to get their packs and other survival supplies from websites like the BCHTactical homepage. That way they get a strong pack that can also be used for the other sports they are into like hunting. But there are plenty of pack types and brands to look into. Hotshots that are looking for a good pack that we personally reccomend may have heard of the GORUCK brand. After learning more about the craftsmanship that goes into every GORUCK pack and doing a GORUCK Challenge in Phoenix, we have become ardent supporters of GORUCK products. All their gear is made in the USA, built to withstand the rigors of combat, and used globally by mountain rescue teams, special forces soldiers, and weekend badasses like you. We highly recommend the GR1 and GR2 for your go-to training pack. They're tough as nails, built to last, and look good on the trail should you come across any ladies. The GR2 is 40L, while the GR1 is 26L. Firmly believing that bigger is better, we like the versatility that comes with a larger pack, so we prefer the roomier GR2. But if you're just going to be packing it with our training blocks, the GR1 will give you plenty of room, fits a hydration bladder easily, and allows for plenty of space to stash a jacket and some food. Plus, you'll save a few dollars by going with the GR1.
Bottom-Line — GORUCK packs are the best on the market. We swear by them.
Get a Hydration Bladder. Fumbling with the lid of a Nalgene bottle while trekking is a problem of the 90s. CamelBak fixed that, and made drinking and walking a painless activity. Invest in one. Almost all packs nowadays come with stash spots for water reservoirs. If you're using a GORUCK pack, the CamelBak Omega Water Reservoir is a solid pick up.
Step 3: Follow The System
All hikes are classified into three levels:
Level 1: Line Gear Only = ~25lb pack weight. (L1)
Level 2: Chainsaw + Line Gear = ~45lb pack weight. (L2)
Level 3: Piss Pump + Line Gear = ~60lb pack weight. (L3)
You can vary the length and time of your hikes, but shoot for at least 45 minutes, minimum. Most hotshot training hikes last between 45 minutes and 1.5 hours, so be prepared.
Hotshot Fitness Hiking Training Schedule Week 1 – 8

| | Monday | Tuesday | Wednesday | Thursday | Friday | Saturday | Sunday |
| --- | --- | --- | --- | --- | --- | --- | --- |
| Week 1 | 2mi | REST | 2mi | Hike (L1) | 2mi | REST | REST |
| Week 2 | 2mi | Hike (L1) | 3mi | REST | 2mi | REST | REST |
| Week 3 | 2mi | Hike (L1) | 3mi | Hike (L1) | 3mi | Long Hike (L1) 4mi | REST |
| Week 4 | 3mi | Hike (L1) | 2mi | Hike (L2) | 3mi | REST | REST |
| Week 5 | 4mi | Hike (L1) | 3mi | Hike (L2) | 3mi | Long Hike (L1) 5mi | REST |
| Week 6 | 4mi | Hike (L1) | Intervals | Hike (L2) | REST | Long Slow Distance | REST |
| Week 7 | 4mi | Hike (L2) | 4mi | Hike (L2) | Intervals | Long Hike (L1) 5mi | REST |
| Week 8 | 3mi | Hike (L2) | Hill Workout | Hike (L3) | REST | Long Slow Distance | REST |
| | | | | | | | |
NEXT >> Week 9 – 16 >>