Run to the Hills. Run For Your Life.
Iron Maiden, Once Again, Perfectly Summarizes Your Life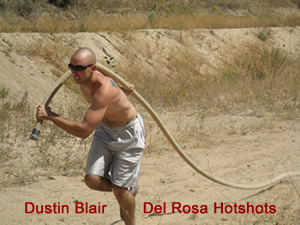 It doesn't matter if you're a 250lb buffalo of a man or a 135lb featherweight – you're going to be expected to run with the crew. So if your last run-in with a pair of running shoes involved a wedgie and the slowest kid on the cross country team, it seems fate has a funny sense of humor.
There's no question that certain body types are better suited for running, others for hiking. On any given hotshot crew, there are pack mules and greyhounds. That however, is no excuse to be deficient in either category. Running strength, like anything else, can be dramatically improved through hard work,committment to a training program, and perserverance.
Hotshot Fitness has created a 16 week running training schedule. It's designed to be started the first of week of January, and adhered to through the last week of April. You should be achieving maximum results just in time for the start of Fire Season. All too often, people plateau at distances and paces because they fail to incorporate an appropriate mix of training exercises. If you want to improve your endurance and speed, it's crucial to incorporate interval training, hill workouts, and LSD runs (Long Slow Distance). The following workout is premised on the fact that you're in decent shape to start off with. If you can't run 2 miles in 19 minutes, build up your endurance until you can, then begin this program. Of course – we're all adults here. Take some responsibility and check with your Doctor before starting this, or any workout program. Seriously – you're training to be a firefighter on a type 1 hotshot crew. If your health is questionable – think about another career. It's nobody's job to have to tell you this – you should just know you're not cut out for it.