DIY Cold Pack
Step-By-Step Instructions
Take a large Ziploc bag
Add 3 cups water to 1 cup of rubbing alcohol

Depending on what size bag you're using, you'll need to figure out the proper conversion rate, but we can help by recommending that you start with a quart-size Ziploc bag. These are the bags that you stow your liquids in when you fly
1 quart = 32oz
1 cup = 8oz
Therefore, there are 4 cups in a quart
So, to fill a quart-size bag, you'll need 3 cups of water, and 1 cup of rubbing alcohol.
Capiche?

Close the bag while being careful to force the extra air out
Put the first bag into a second Ziploc bag and seal the same way
Throw it in the freezer for a couple of hours. Relax. Enjoy a cocktail, go for a run, read a book. Do what you need to do. Because in a couple hours…
BOOM! You have your own reusable ice pack! Using this method, the pack will not turn into an uncomfortable block of ice. And you have saved yourself a few dollars. Life is a good!
[highlight]A Note of Caution: Always remember to use a towel or pillowcase between the pack and you skin for protection![/highlight]
ABOUT THE AUTHOR: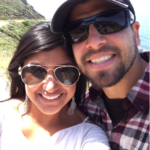 Anthony Harrell spent three years with the Ukonom Hotshots. His adventures in fire inspired him to pursue a career in Physical Therapy, and he recently graduated from the Doctor of Physical Therapy program at the University of California, San Francisco (UCSF) / San Francisco State University. 
He lives in the San Francisco Bay Area with his wife, Julie, and their dogs. He has been a contributor to Hotshot Fitness since 2016.
Interested in writing for us? Check out our contributor guidelines for more information.