New Year, New Mindset
With the New Year now upon us, most are starting to think about ways to scrape off the rust from these last few non-fire months. Whether you are new to fire or looking for ways to sharpen your athleticism, now is the perfect time to get moving. Make this season a safe and effective one by developing both the mental and physical fortitude needed for the job.
Firefighters as Tactical Athletes
Wildland firefighting has historically been a seasonal occupation, with young adrenaline-seeking men and women eager to make a year's worth of wages to help get through the winter months to pursue other jobs, schooling, and adventures. I have even read stories in the first half of the 20th century which tell tales of local rangers recruiting young drunken men from barstools to put in a few chains of line and help extinguish a blaze. Fast-forward to the present time and you would be hard-pressed to find the firefighter who isn't regularly maintaining some level of physical fitness and aptitude, even in the off season. Thankfully, there are many top tips online to help keep those looking to attain a better level of physical fitness do so. Check some out here – http://www.st-ambrose.com/2020/11/02/top-rated-tips-for-fitness-success/.
Our knowledge of fire and human performance has vastly improved and it is crucial that we treat the profession with the respect that it deserves. Between 2003 and 2007 alone, there were approximately 1,300 fireline injuries reported (Department of Interior, 2015). Using fire reporting software could help keep track of fire department records like this. Even more staggering to see is the 440 men and women who have been killed in the line of duty since 1990 (NIFC, 2015). It is not appropriate nor respectful of those injured or killed throughout the history of the profession to show up to your crew out of shape and unprepared. There is ever-developing science and techniques at our disposal, but it depends on your mindset.
Wildland firefighters (seasonal and permanent) work a hard, dangerous, and oft-badass job which requires technical skill, a sharpened mind, and physical prowess. The Tactical Athlete has been described as one whose occupations requires "Personnel to develop general physical preparedness in addition to technical and tactical skills that are crucial in environments involving civil protection, grave physical danger, or rescue situations" (Scofield and Kardoni, 2015). There has never been a better time than now to start preparing to be mountain tough and fire ready.
Fitness: mental and physical
Here at Hotshot Fitness, we are motivated to help you fulfill your firefighting goals. It doesn't matter if you are a salty veteran or a green rookie; we all have the capacity to improve. If you look up fitness in a dictionary, you will see it defined as "the quality of being suitable to fulfill a particular role or task". The wildland firefighting environment requires firefighters to bring mental toughness and physical strength to work, every shift, every roll. Your success at being able to satisfy those demands determines your fitness. And that is 100% in your power to control.
You have the good-fortune of being in the middle of the off-season which means time for self-exploration. What are some of your goals for the upcoming year? Is it to pull your weight on a hotshot crew? How about exhibiting the physical strength and stamina to prove you belong on a saw team? It may even be that you are new to this world and are looking to simply pass the Pack Test and start your career in fire. The point is, there is no goal too small. You can pour over the articles on this site and find physical tips to get your ass in gear, however, it comes down to the action that you take.
Extreme Ownership is a term coined by and title of a book by retired Navy SEALs Jocko Willink and Leif Babin. I believe this book should be read anyone looking not only to lead others, but those wanting to take control of their own life. In it, the authors discuss how one must own everything about their decisions and actions and take responsibility for the outcome. As you kick your off-season training into high gear, we highly recommend that you adopt an "Extreme Ownership" mindset. Jocko also has an amazing podcast that we highly recommend checking out. He has also been featured on the Tim Ferriss podcast, and some of his advice made its way into Tim's latest book, Tools of Titans (another HF highly-recommended read).
Your Off-Season To Do List:
Read Extreme Ownership by Jocko Willink and Leif Babin

Be Inspired

Analyze your strengths and weaknesses.

Set a goal (or goals)

Prioritize and formulate a plan

Execute. Execute. Execute
Use this new mindset to guide your choices, your training, and your performance as a tactical athlete in 2017.
Remember: Be S.M.A.R.T. With Goals. For some advice on goal-setting, check out some of our tips.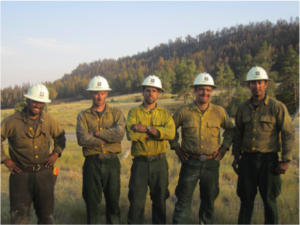 About the Author:
Anthony Harrell spent three years with the Ukonom Hotshots. His adventures in fire inspired him to pursue a career in Physical Therapy, and he recently graduated from the Doctor of Physical Therapy program at the University of California, San Francisco (UCSF) / San Francisco State University.
He lives in the San Francisco Bay Area. He has been a contributor to Hotshot Fitness since 2016.
Interested in writing for us? Check out our contributor guidelines for more information.