This is a Big Day. For over eight years, Hotshot Fitness has been an enterprise of one.
But as of today, that changes. because former Ukonom Hotshot, and newly-minted Doctor of Physical Therapy, Anthony Harrell will be joining the Hotshot Fitness team as a contributing writer! Anthony will be covering a host of topics for us including:
Injury Prevention & Treatment
Physical Rehabilitation
Dynamic Stretching & Static Stretching Techniques
Strength Training (Calisthetics, Plyometrics, etc.)
Endurance Training
Expert Interviews
And, quite frankly, whatever else he wants to focus on.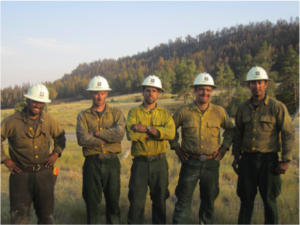 Anthony is passionate about two things: 1.) Helping people achieve optimal performance and 2.) the Wildland Firefighting community. This guy has literally spent the last few few years devoted to the study of how wildland firefighters can become better. Honestly, this is why Hotshot Fitness was founded. When Anthony approached me about writing for the site, I was thrilled. Back in 2008, when I created Hotshot Fitness, I wanted to create a community that fostered the development and dispersion of best-in-class ideas. I wanted the wildland community to have access to the most cutting-edge research and the best practices available. Because I believe that when it comes to firefighting, physical fitness is a safety factor. Anthony brings an academic rigor that far surpasses my knowledge of physiology. But it is knowledge that is tempered by experience. He's been a hotshot. He's cut line through chaparral jungles. He's suffered, and he's overcome. And he knows what it takes to succeed in this smoke-filled world. He knows fire. He knows strength and fitness. And most importantly – He's worn the boots, and pulled the shifts.
He's one of us..
It's not very often that a man of Anthony's caliber and class approaches you with an offer to help. I'll be frank, when he offered to contribute to the site, I couldn't say yes fast enough. Over the next few months, I promise you that you'll be impressed by the quality of content that he'll contribute to this site. I'm excited…and you should be too!
So without any further adieu ( 😉 … Welcome to the team, Anthony! The wildland firefighting community is stronger because of your willingness to share your voice.
Thank you!
-Mike
Founder, Hotshot Fitness
P.S.
Interested in learning more about Anthony? You can check out his biography here, and his LinkedIn profile here.